Midnight Sun Yoga Center
Thank you for visiting us, please feel free to click around our comprehensive site. You can find the navigation for class schedules, pricing, descriptions, specials, and more in the menu above. If you have any further questions please e-mail or call us at 907-355-8889. Quality Yoga and Dance classes from teachers you know and trust!
YOGA PHOTO CONTEST!!
Now taking submissions for our Fall Yoga Photo Contest! Grab your camera, grab a friend, and get shooting! Submit your best yoga pose, most creative yoga-photo-op, or just a great yoga photo into our studio contest! All entrants' photos will be printed and hung on our studio wall, making a yogatastic collage! The 2 best photos (People's Choice and Judges Choice) will win 25% off a class pass/punchcard or a retail item! Enter as many times as you like!

Ways to Submit Your Photos:
1) Post Your Photos on Midnight Sun Yoga Center's Official Facebook Page
2) Instagram or Tweet @midnightsunyoga and #MSYCPhotoContest
3) Email your photos to: midnightsunyoga@gmail.com
*By submitting your photos, you agree to MSYC's use of the photos on our website, social media, and in the studio.
Partner Yoga – FUNdraiser – October 24; 7:00-8:30pm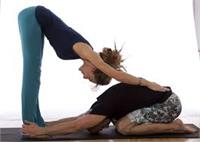 Partner Yoga is a fun, active way to develop trust and improve communication as you work together to stretch and strengthen your bodies.  Students learn to enjoy and flow into yoga poses with the help of a partner.  Yoga practice will be followed by complimentary appetizers and desserts.
No experience is necessary, and everyone is welcome!  Bring a friend, neighbor, family member, or romantic partner.  Don't have a partner in mind?  Call us at 355-8889 and we'll get a partner for you for the practice.
Space is limited to 12 pairs, be sure and register today!
Cost = $40 per partner pair, $25 single
All proceeds from this fundraiser will be donated to the Eva Foundation, to support them in the ongoing services they provide in the Mat-Su.
ABOUT THE EVA FOUNDATION: Estimates show that 52.5% of adult women who live in the Mat-Su Valley have experienced sexual violence, intimate partner violence, or both, in their lifetime.  The Eva Foundation provides esteem building necessities to help recovering survivors secure an abuse-free future for themselves and their loved ones.
8 Week Intro to Yoga Workshop with Dori McDannold
Thursdays, October 30- December 18th; 7:15pm-8:30pm
This eight week workshop is designed to give you a great start to basic yoga – no matter what type of yoga you would like to practice. This class will focus on alignment with a balance in strength and stretch, and breath and mindfulness, and use of your core in all poses.
Prepaid/full commitment = $95. This workshop begins on October 30 and runs through December 18th.
Yoga 101: The Basics with Ailis Vann
Friday, November 7, 7:00-9:00PM
Are you interested in yoga, but unsure of which class to take, or even what a yoga mat is? Yoga 101 is the class for you! Ailis, one of the owners of Midnight Sun, will be teaching Yoga 101 once a month to help you become familiar with the studio, the different supports (props) we use in our classes, basic yoga poses, studio etiquette, and a bit of yoga history.
After this two hour workshop you'll feel confident to enter any of our "all levels" classes at the studio. Plus, you'll have fun and earn 10% off a punch card for yoga at the studio!
Cost = $40
MSYC has switched to Mindbody software for our scheduling and point of sale system.  We switched to offer more to you, our students.  Look for new ways to sign up for classes online and to pay for a variety of products.  Our online schedule will also notify you of any subs for your favorite classes. Download the Mindbody Connect App for your smart phone and sign up, check current schedules and more right from your phone!!!!